Available Kittens & Rescues &nbsp:

Information

In Loving Memory
Ch. Abben Buddy Love
July 24, 1996 - November 17, 2008
CH Abben Buddy Love
10th Best Alter final Prairie State On Safari
9th best Alter at Longview On Safari age 12
HCM negative at age 10






Bengals - Abys
After our children (three grown daughters with 10 grandchildren and five great grandchildren) grew up and start lives and families of their own, Jim and I focused on our feline family. We have always loved animals, and felt our family was not complete without our pets. We wanted to provide healthy, happy pets for others and to work to improve our breeds and the lives of pets in general. Placing our cats in happy homes or watching one them win in a show is thrilling. What we have enjoyed most are the friendships and the contribution to the quality of our own lives. Each breed brings unique charm, challenges, and of beauty, temperament and breed standards. The Bengals have dog-like qualities....tolerant and forgiving. They are always ready to curl up to nap with you or take a turn on the agility track. The Abys are physically more affectionate, but on their own terms. Humility was the gift they brought, along with their feral beauty...and the realization that we as mere mortals were in the presence of royalty. The Highlanders are smart and funny... knowing when they make you laugh and repeating the act. They may be more active than either the Bengal or the Aby, but around here it's hard to tell! A chance miracle brought our first Bengal. Civie Cat, into the home and began our adventure with Bengals and Abyssinians . She helped raise our grandchildren as well as her own babies. The Bengals have a natural affinity with children and the elderly in addition to being best friends with their people. In 1996 we were gifted with a Bengal Treasure, CH Abben Buddy Love, the first kitten kept for our breeding program and model of temperament for our program. Buddy is known for the physical soundness and temperament passed to his offspring - still apparent today into the 4th generation. It goes beyond genes - he assists in raising our kittens. He will enter a carrier the minute it is opened.....ready to go to a show or to work as a therapy cat in nursing homes. At age 11 he was still winning finals as an Alter in TICA shows and has won trick contests against dogs at the Festival of the Pet. Buddy tested negative for HCM at age 10 and his mother is well at age 14. We have enjoyed showing in both TICA and CFA (Abys) and have many titles and Regional Winners in both breeds.

Memberships:
Cattery Registered with both TICA and CFA
The International Cat Association
The International Bengal Cat Society
Maine Coon Connection in Texas Cat Club
Heart of Americats Cat Club in Missouri
KansasKatz Club in Wichita
LA CATS Cat Club in Texas
Highlander Breed Association
Coordinator Purebreed Cat Rescue in Oklahoma



BUDDY's Health, Temperament and Beauty formed the foundation for the
Bengals bred at OhMy Cattery. Today, most of our kittens continue to carry
his bloodline and the temperament is evident even into the fifth generation.
The kittens with Buddy's amazing health and outgoing affectionate nature
are known as OhMy's BUDDY BABIES. Catch Your Dream Kitten TODAY.

On his memory wall is the first edition of Legacy of the Cat by Gloria Stephens
shown here in Japanese. Photo by Tetsu.
Also included, his picture from long ago in Midwest City where he championed
at a Thunderkatz Show with a Best Cat from Lynn Shearer, where he was the first
"snow" marble shown in the South Central Region.

Many of today's Bengals have more exotic patterns, but the wonderful whisker
pads and small well set ears of a Buddy Love Bengal are all too often lost.
The thick tail carried low and the large nocturnal eyes...all are what we strive
for in reproducing the best of our Buddy Babies. Breeders are HCM negative.

Our Abyssinians have produced many Champion to Supreme Grand Champion
offspring. We test for PKD def and PRA to ensure healthy long lives for our
Aby babies. We have Ruddy, Red, Blue and Fawn in our lines as well as the
rare Chocolate/Lilac colors. Our Abyssinians have over the years been named
as Regional Winners and for many years, and several have received the Award for
Best Abyssinian in the SC Region of TICA or Best Alter Abyssinian.
Grandsire of our current Abyssinians, RW SGCA Cedarwood Shilow of OhMy
was Best Abyssinian at the 2008 TICA Annual Show against international competition.
All are registered in TICA and most are eligible for registration in CFA.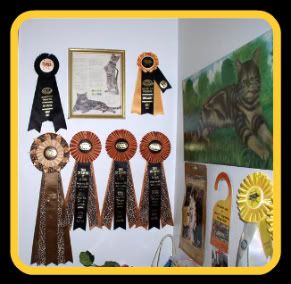 Best Viewed 1024 x 768
---
©2003-2007. This site and all contents including but not limited to original photography and original graphics are the sole property of Oh My Cats. Not for reproduction or distribution. Content may not be used in whole or in part without express written permission of the site owner.